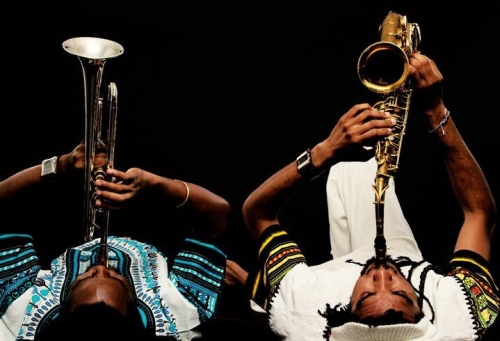 Have shared the stage with:

Earth Wind & Fire, Lauren Hill, Zap Mama, Dave Brubeck, Raul Paz, Sergeanto Garcia, Jimi Tenor, UB 40,
Morgan Heritage, Sly & Robbie, Marilyn Mason, Buju Banton, Patrice, Eric Clapton, Aloe Blacc, Buena Vista Social Club,
1884 Project, Ziggy Marley, Macy Grey, Junior Kelly, Capelton, Tony Allen, AYO & Ojos de Brujo

Biografie:
Daniel "EL CONGO" Allen Oberto

El Congo began studying the trumpet when he was 9years old in Eva Music School in Holguin/Cuba.
He attended 4 years the Music Conservatory in Holguin and then 6years in the Music
University (ISA) in Havana and there he got the chance to meet Herbie Hancock, Nicholas Payton, Danilo Perez, and Kenny Baron at the international Jazz Festival.
Donald Harrison invited him to study in the school where he was teaching in New Orleans but because Visa complications he decided to go to Europe.
He has worked on CD Productions and shared the stage with many artists such as:
Patrice, Brothers Keepers, Ono, Laura Lopez, Jimi Tenor, Tony Allen, Afrikun, Fetsum, 1884 Project, Sublevao Beat, Aloe Blacc, Los Negros Soundsystem -only to mention some-
Beside that he formed the Horn Section called Machete Horns which has successfully proved that they rock!
El Congo´s projects are:
Los Negros Soundsystem (los-negros.com), Afrikun (facebook.com/sublevao), Kabu Kabu Band with Jimi Tenor & Tony Allen and Machete Horns.
Regis "KinRe" Molina Reynaldo
is a promising composer and improviser from Havana, Cuba who currently resides in Berlin, that adopts in his music styles that go from Afro-Cuban music up to the modern Jazz.
He has shared the stage with many great musicians including:
Chucho Valdés, Duquende, Kelvin Sholar, Jeff "Tain" Watts, Till Brönner, Birelli Lagrene, David Gilmore, Celine Rudolph, Peter Weniger,
Jazz Plaza Big Band, Ojos de Brujo, Horace Andy and The Wailers only mentioning some.
KinRe is working together with El Congo on Machete Horns Album which shall be released in 2012.
Referenzen:
Have performed across:
Europe:
France
UK
Germany
Swiss
Holland
Austria
Portugal
Italy
Russia
Sweden
Finland,
Belgium
Spain & Greece
Africa:
Nairobi
Mombasa
Morocco

North America:
Cuba & Canada for only mentioning some.
Have appeared on:
Sat 1- Breakfast TV Live,
ARTE-Live Show with Raul Paz,
Pro7-TV Total, Glastonbury Festival 2011

Features on / in: Welt Kompakt Munich,
The Jazz line,
Frankfurter Allgemein,
Kenya Times

Awards:
international Award "Jojazz" (2005) Berlin Blues & Jazz Awards (2007)


Recent Performances:

7/3/2011 Montreux Jazz Festival
7/6/2011 Bordeaux, Cognac Passion Blues Festival
7/9/2011 Germany, Splash Festival
11./25.2011 Kenya Nairobi Wapi
11.26/2011 Kenya Nairobi Alliance François